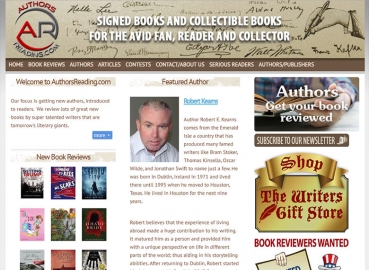 Authors

Reading

AuthorsReading.com is a book review site founded in February of 2009.

Their editorial policy is to review all books and try to bring increased recognition to the thousands of great – and often overlooked – independently published titles released each year.

They strive to give all authors an equal opportunity in promoting their works to the reading public.

They hope to continue being a leader in the introduction of new authors to the reading public.

They want their site to be a fun place for readers to interact with the authors, listen to excerpts narrated by the author and read interviews.

They want to help all authors.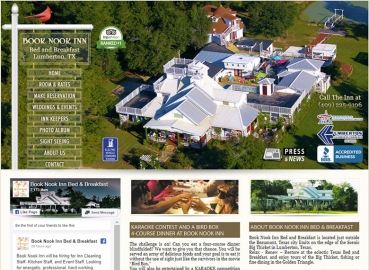 Book

Nook

Inn

Book Nook Inn is an award-winning Bed and Breakfast located just outside the Beaumont, Texas city limits on the edge of the Scenic Big Thicket in Lumberton, Texas.

Relax - Renew – Restore at the eclectic Texas Bed and Breakfast. and enjoy tours of the Big Thicket, fishing or fine dining in the Golden Triangle.

Book Nook's well-stocked pond offers fishing and you won't need a license since it is right on our property. The pond is stocked with catfish, perch, and bass.

If you like to swim, we offer that also during the warm seasons.

Breakfast is homemade every morning—fare might be bacon and eggs, pancakes, waffles, eggs benedict or some other homemade offering.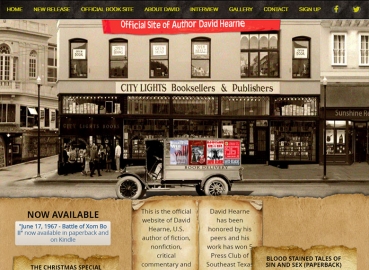 David

Hearne's

Official

Site

Award-winning author, David J. Hearne, has written a non-fiction book about a deadly Vietnam battle that took the lives of 39 men, two novels, a collection of horror short stories, and a non-fiction book about programming.

His stories have been described as fast-paced thrillers that weave fictional characters into real-life events and examine problems facing contemporary society. Hearne is currently working on an autobiographical book of his experiences in the battle of Xom Bo II during the Vietnam War.

An accomplished author, David has won numerous awards from local, national, and international book competitions and events. His novel The Christmas Special has won awards at the New England Book Festival, Midwest Book Fest, and from book competitions in Florida and California. He also received an international award for The Christmas Special at the British Library in London, England. His book of short horror stories, Bloodstained Tales of Sin and Sex, won awards both from the Press Club of Southeast Texas Excellence in Media Awards and from the 2014 Halloween Book Fest in Hollywood, CA. David's work has received 5 other awards from the Press Club of Southeast Texas Excellence in Media Awards.

David has appeared on over 110 radio and TV shows discussing his books, their meanings and his reasons for writing them. When not writing or promoting his books, David enjoys reading, listening to audio-books, traveling with his wife, and taking on life's new adventures.

As the son of an Army officer, David enjoyed growing up in many different places, along the east coast of the United States. Early on, David developed a love for traveling and learning about different places and diverse cultures.

His life experiences are many; he has served in the Army as an Artillery Officer, ran numerous companies, lived in San Francisco and Berkeley California during the "Age of Aquarius", an age of love, light, and humanity, worked as a software engineer, founded a successful construction company and more.

Now David and his wife own and operate the eclectic bed and breakfast, Book Nook Inn located in the golden triangle of Southeast Texas. Hearne's many experiences helped shape his world views. Having been exposed to so many divergent viewpoints, he discovered a good command of history was a necessity to detect the truth amid all the noise.

His personal history, taught him to draw his own conclusions on social matters, world events, and the voluminous events that occur in our daily lives.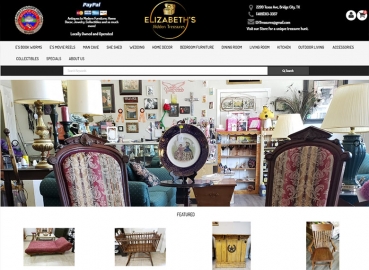 Elizabeth's

Hidden

Treasures

Elizabeth's Hidden Treasures is so much more than your typical antique store.

Everyone loves to visit this unique treasure trove in Bridge City, Texas. Explore their Furniture, eclectic items, and vintage treasures.

With new merchandise arriving daily, and numerous events yearly, Elizabeth's Hidden Treasures is truly an inspirational destination.

Antiques to Modern Furniture, Home Decor, Jewelry, Collectibles and so much more can be found at Elizabeth's Hidden Treasures.

Meet Elizabeth and start bartering for the things you want.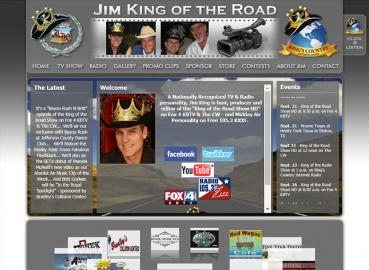 Jim

King

of

the

Road

Since launching his creative and community-oriented "King of the Road Show" on an Oklahoma radio station in the mid-90's, Jim King, a.k.a. Jim King of the Road, has won many fans and received numerous honors from his peers in the broadcasting industry.

Jim's radio career has taken him to winning stations in California, Texas and Oklahoma. Jim is currently host, producer & editor of the "King of the Road Show HD" - an entertainment-based TV program, airing three times weekly on Fox 4 KBTV & The CW in Southeast Texas. Jim is also the Midday Air Personality at Free 105.3 in Beaumont.

In addition, Jim has been a newspaper and magazine columnist and photographer for several of the area's leading publications. Jim also co-owner of King's Country, an Internet Radio station based in Beaumont, TX.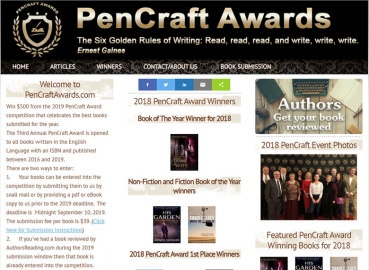 PenCraft

Awards

PenCraftaward.com is a site created to help foster the promotion of books to the reading public. The book award site was founded in 2016.

Many book contests require that you are published only by certain publishers, or that you belong to specific organizations. The PenCraf Award competition doesn't have those unfriendly and restrictive requirements. We are an equal opportunity competition.

Some ask, what is the point of entering a book contest, here are a few of the reasons:

• Earning the status of award-winning author (priceless)
• Additional exposure for your work to a new audience
• The endorsement of your work by a third party
• To motivate you to write and complete a piece of work by a set deadline
• The excitement of the competition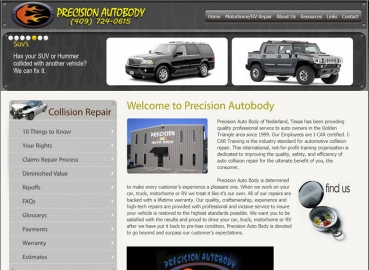 Precision

Auto

Body

Precision Auto Body of Nederland, Texas has been providing quality professional service to auto owners in the Golden Triangle area since 1999.

Our Employees are I-CAR certified. I-CAR Training is the industry standard for automotive collision repair.

This international, not-for-profit training organization is dedicated to improving the quality, safety, and efficiency of auto collision repair for the ultimate benefit of you, the consumer.

Services offered by Precision Auto Body of Nederland, Texas include major and minor collision repair, bumper repair, ding, and scratch repair, paintless dent removal (PDR), headlight restoration, bumper reattachment, rental and lease return repairs.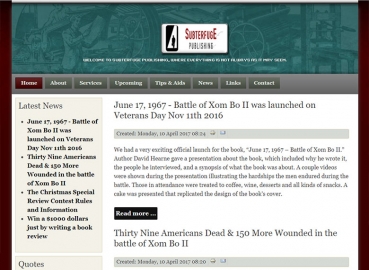 Subterfuge

Publishing

Subterfuge Publishing is an award-winning company that opened its doors and website in 2004.

Subterfuge Publishing decided to only publish a few select books a year that could meet their high standards.

They now publish books by renowned numismatist and author Mike Fuljenz and political novelist, David J. Hearne. Both authors have had their releases well received. Hearne's book, "June 17, 1967," was one of the top-selling books about the men who fought in the Vietnam War and the battles they endured.

Subterfuge Publishing is a proud sponsor of the "PenCraft Awards."
They have been involved in various book shows in Houston, West Texas, Denton Texas and more.

They don't take full-length manuscripts, but they do welcome query emails with a submission title, synopsis, and manuscript except. If Subterfuge Publishing likes what they read, they'll try to respond to your proposal in 10-12 weeks.

Subterfuge Publishing will accept queries for all genres.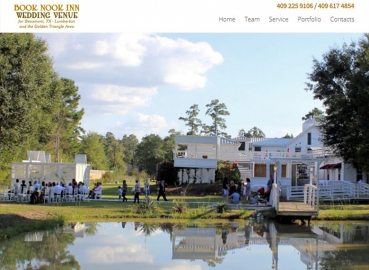 Book

Nook

Inn

Wedding

Venue

Beaumont, TX Brides have found Book Nook Inn's event center to be the perfect Southeast Texas location for their dream wedding. We have helped many couples create a remarkable wedding event that is remembered as a thing of beauty, fun, and success by both the wedding party and guests for years to come...

Book Nook Inn is a premiere Golden Triangle Venue, located just outside of Beaumont, TX. Our staff is dedicated to creating an unforgettable, yet affordable wedding experience for all brides and grooms. Book Nook Inn is an award-winning venue, and truly one of the best Beaumont wedding venues available.

Our reception area can accommodate up to 120 people. Our outside wedding areas can easily accommodate 200 people or more. All of our weddings include a bridal suite, and a groom's room. Allow us or your coordinators to help you plan an exclusive event at our unique wedding venue. Whether you are planning the social event of the season, a classic garden wedding reception or an intimate affair, you will want to view our beautiful grounds and facilities at Book Nook Inn wedding venue.